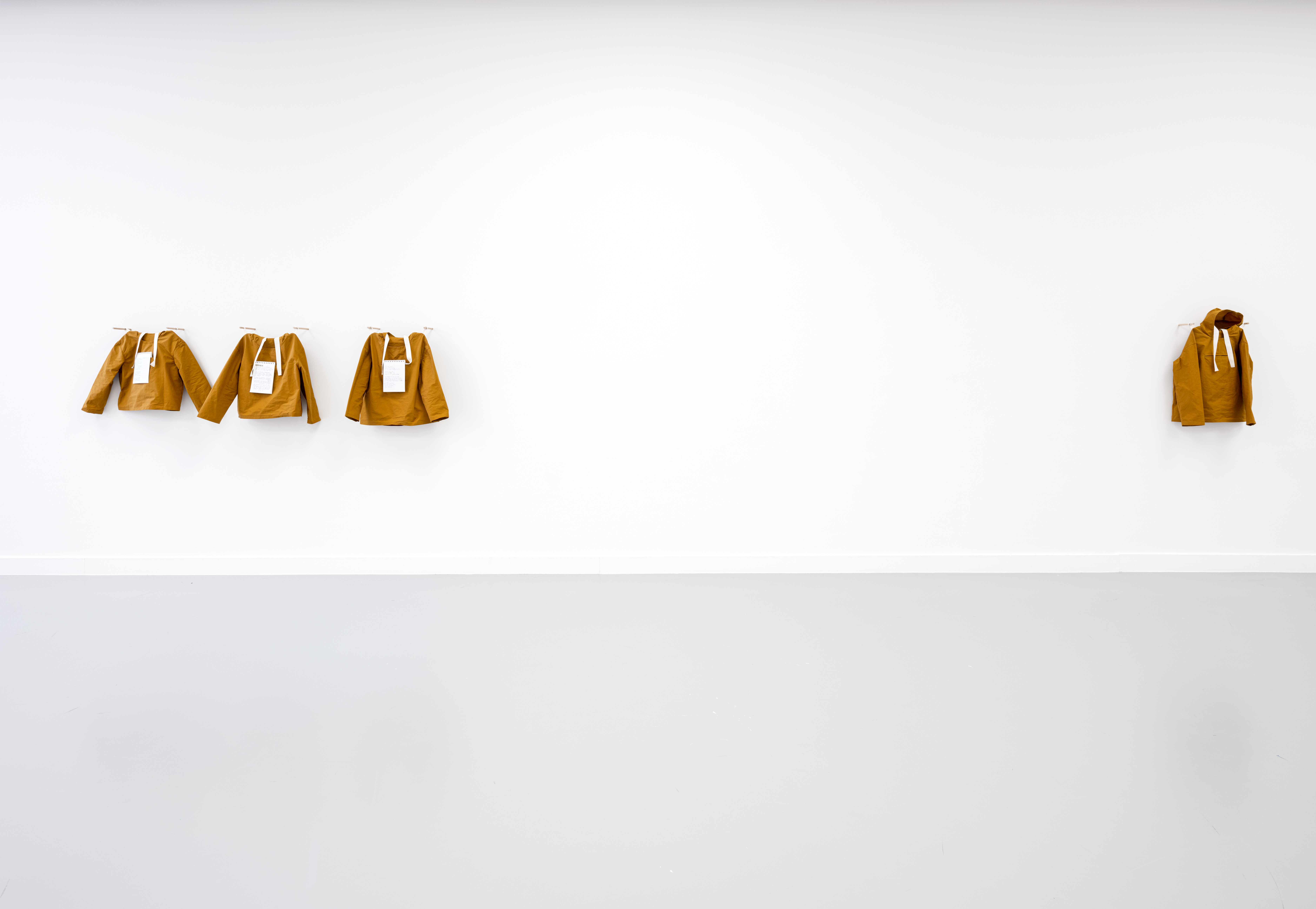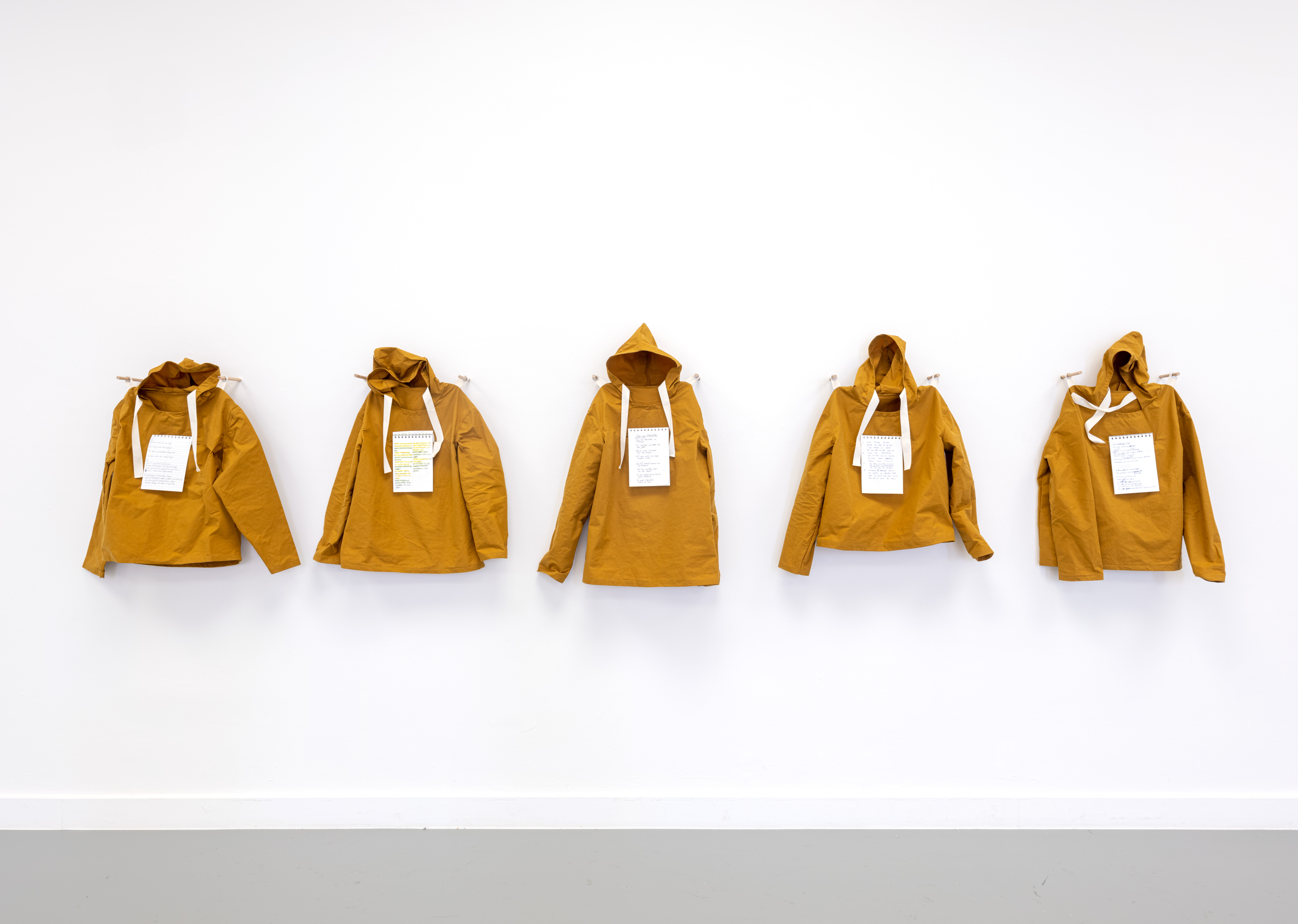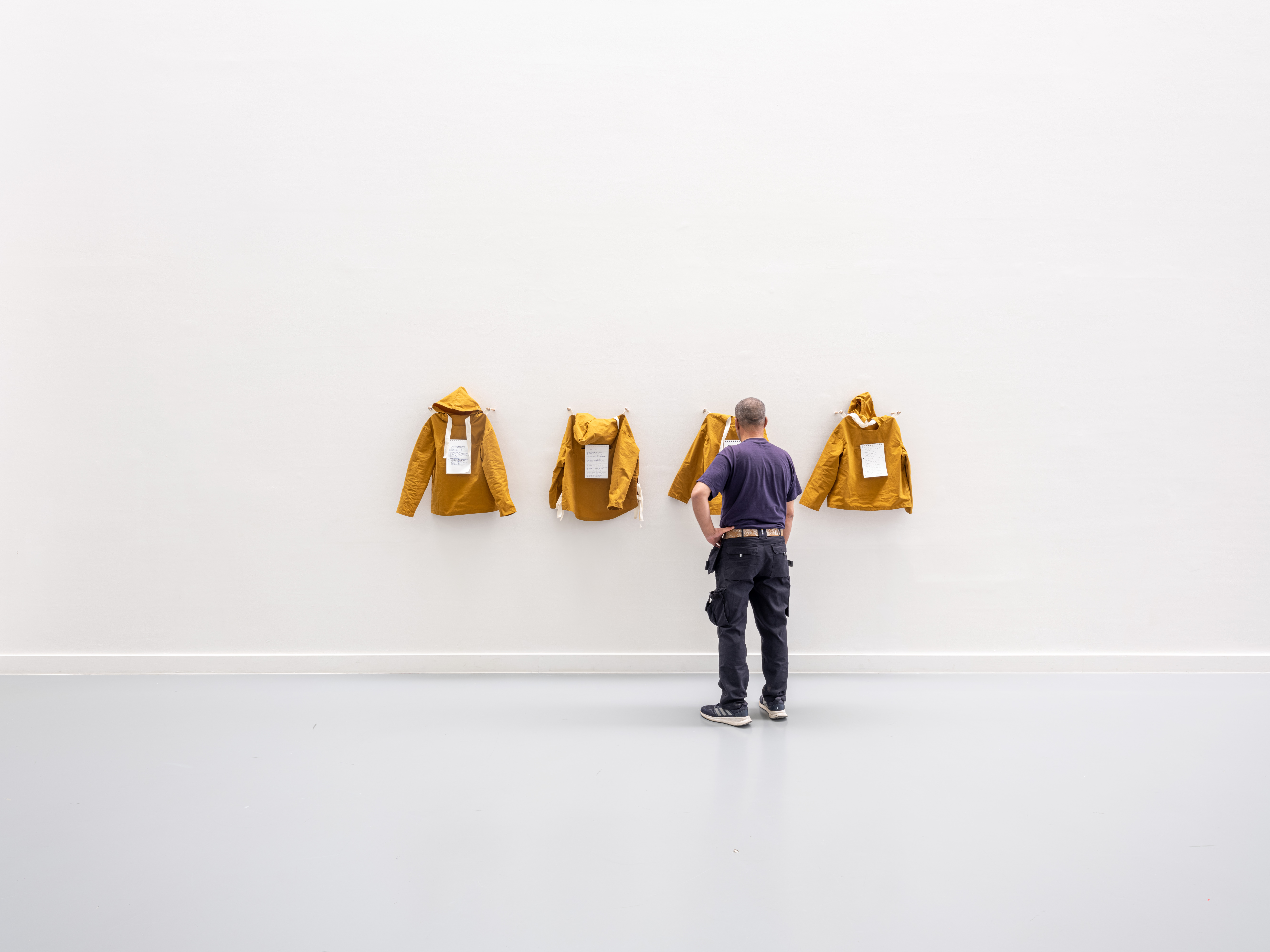 2023, choir, 13 jackets, phonetic texts, piano, guitar

Ignace Cami's RE:ANKER comprises a newly formed choir. Three songs about Antwerp and its port are sung by a group of twelve singers that are new to the Dutch language. Individually writing their own lyrics through the act of listening, they phonetically transform the original words and sounds into something new and enigmatic. Cami initiated the collaborative singing performance RE:ANKER specifically for his solo exhibition of the same name at M HKA. Entwining the connective nature of singing with the alien experience of facing a foreign language, the transformative power of interpretation is harnessed.

Installation pictures: copyright M HKA/clinckx
Performance pictures: copyright M HKA/Azouaghe
2023, cherry wood


For several years now, Ignace Cami has been training himself in the traditional cutting of outsized koekplanken [biscuit moulds] using text or image. Cami collaborates with local bakers who use their own, often secret, speculoos (a typical Belgian spiced biscuit) recipe to bake biscuits. The biscuit is then displayed and offered in a mobile biscuit cart. Biscuit moulds can be traced back to a pre-Christian ritual of offerings: gradually, the offering was replaced by its image baked in biscuit.

For his solo exhibition RE: ANKER, Cami cut the images of three Antwerp giants into biscuit moulds: Druoon Antigoon; Pallas Athena, his wife; and Lange Wapper. According to legend, Druoon Antigoon ravaged Antwerp by demanding high tolls for passage on the River Scheldt, cutting off a hand from anyone who could not pay. Eventually, with a ruse the hero Silvio Brabo managed to cut off Antigoon's hand and threw it into the river. This is how the city supposedly got its name, Antwerpen literally meaning hand-werpen (hand throwing). From the 15th century on, giants were driven through the city in processions and circumambulations or ommegangen. The giants symbolise power and oppression. When a new monarch ruled the city, Antigoon was used as a warning of what could happen to leaders who wanted to keep the Antwerp people under oppression.

Installation pictures: copyright M HKA/clinckx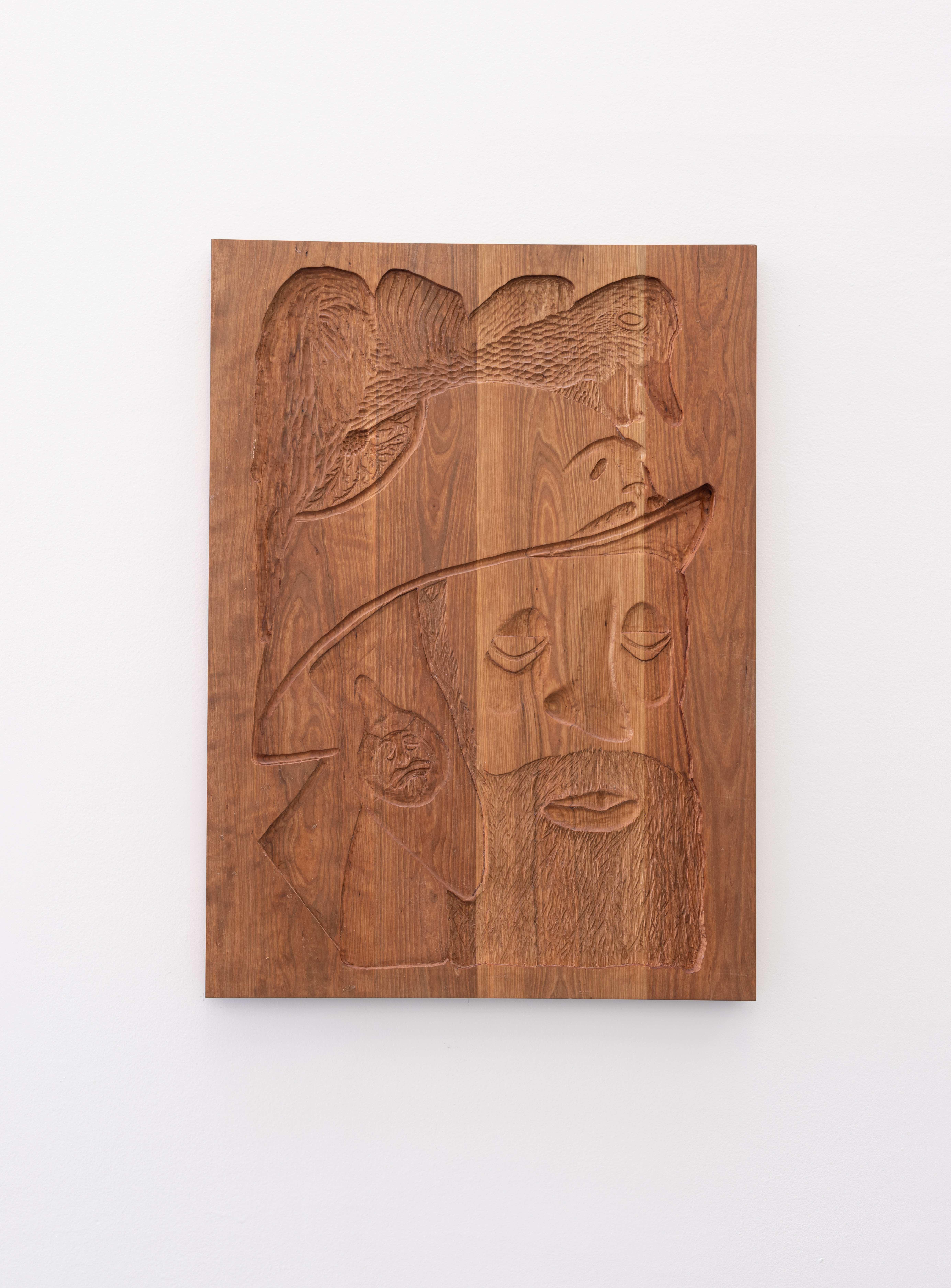 2023, cherry wood


For several years now, Ignace Cami has been training himself in the traditional cutting of outsized koekplanken [biscuit moulds] using text or image. Cami collaborates with local bakers who use their own, often secret, speculoos (a typical Belgian spiced biscuit) recipe to bake biscuits. The biscuit is then displayed and offered in a mobile biscuit cart. Biscuit moulds can be traced back to a pre-Christian ritual of offerings: gradually, the offering was replaced by its image baked in biscuit.

For his solo exhibition RE: ANKER, Cami cut the images of three Antwerp giants into biscuit moulds: Druoon Antigoon; Pallas Athena, his wife; and Lange Wapper. According to legend, Druoon Antigoon ravaged Antwerp by demanding high tolls for passage on the River Scheldt, cutting off a hand from anyone who could not pay. Eventually, with a ruse the hero Silvio Brabo managed to cut off Antigoon's hand and threw it into the river. This is how the city supposedly got its name, Antwerpen literally meaning hand-werpen (hand throwing). From the 15th century on, giants were driven through the city in processions and circumambulations or ommegangen. The giants symbolise power and oppression. When a new monarch ruled the city, Antigoon was used as a warning of what could happen to leaders who wanted to keep the Antwerp people under oppression.

Installation pictures: copyright M HKA/clinckx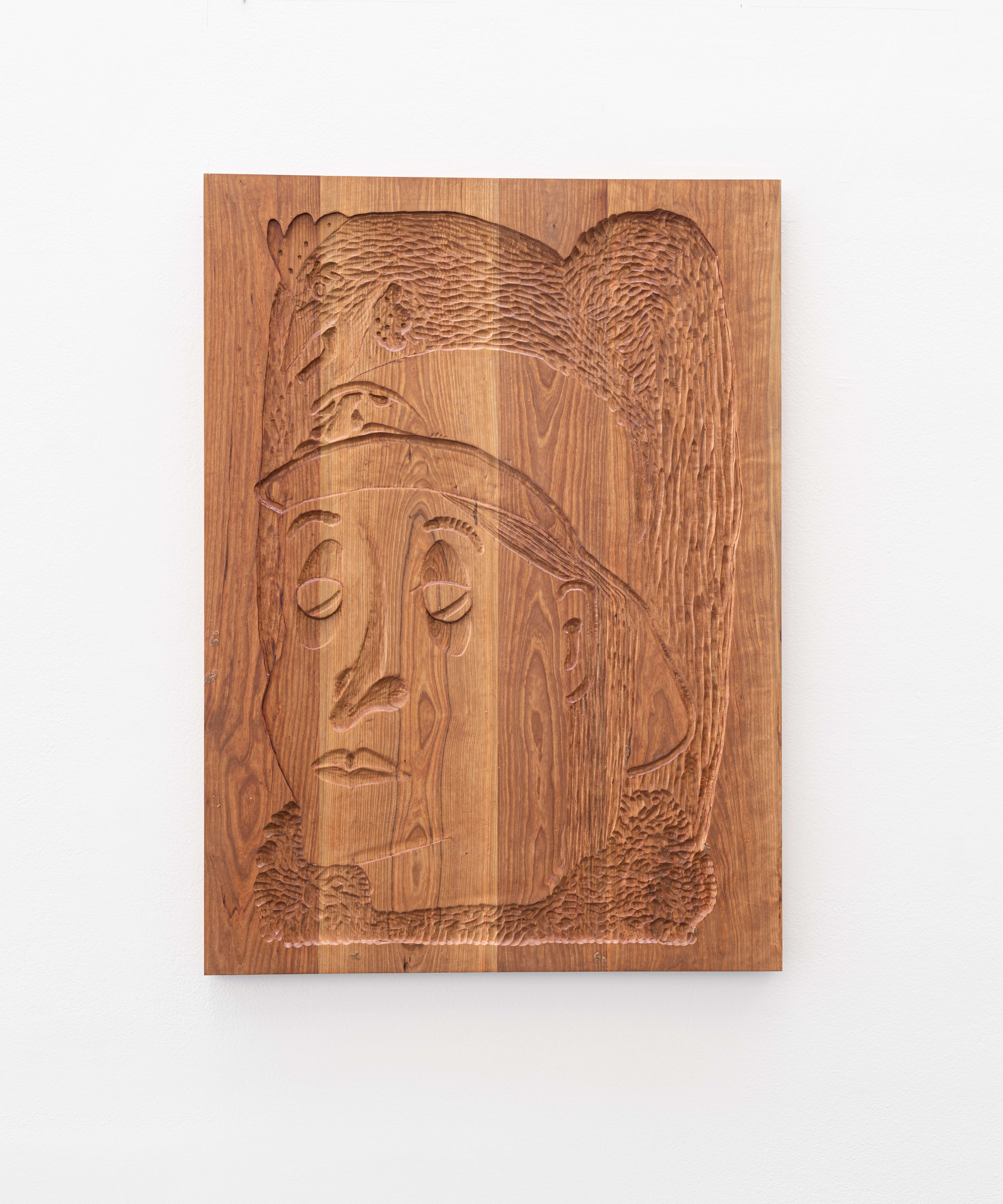 2023, cherry wood


For several years now, Ignace Cami has been training himself in the traditional cutting of outsized koekplanken [biscuit moulds] using text or image. Cami collaborates with local bakers who use their own, often secret, speculoos (a typical Belgian spiced biscuit) recipe to bake biscuits. The biscuit is then displayed and offered in a mobile biscuit cart. Biscuit moulds can be traced back to a pre-Christian ritual of offerings: gradually, the offering was replaced by its image baked in biscuit.

For his solo exhibition RE: ANKER, Cami cut the images of three Antwerp giants into biscuit moulds: Druoon Antigoon; Pallas Athena, his wife; and Lange Wapper. According to legend, Druoon Antigoon ravaged Antwerp by demanding high tolls for passage on the River Scheldt, cutting off a hand from anyone who could not pay. Eventually, with a ruse the hero Silvio Brabo managed to cut off Antigoon's hand and threw it into the river. This is how the city supposedly got its name, Antwerpen literally meaning hand-werpen (hand throwing). From the 15th century on, giants were driven through the city in processions and circumambulations or ommegangen. The giants symbolise power and oppression. When a new monarch ruled the city, Antigoon was used as a warning of what could happen to leaders who wanted to keep the Antwerp people under oppression.

Installation pictures: copyright M HKA/clinckx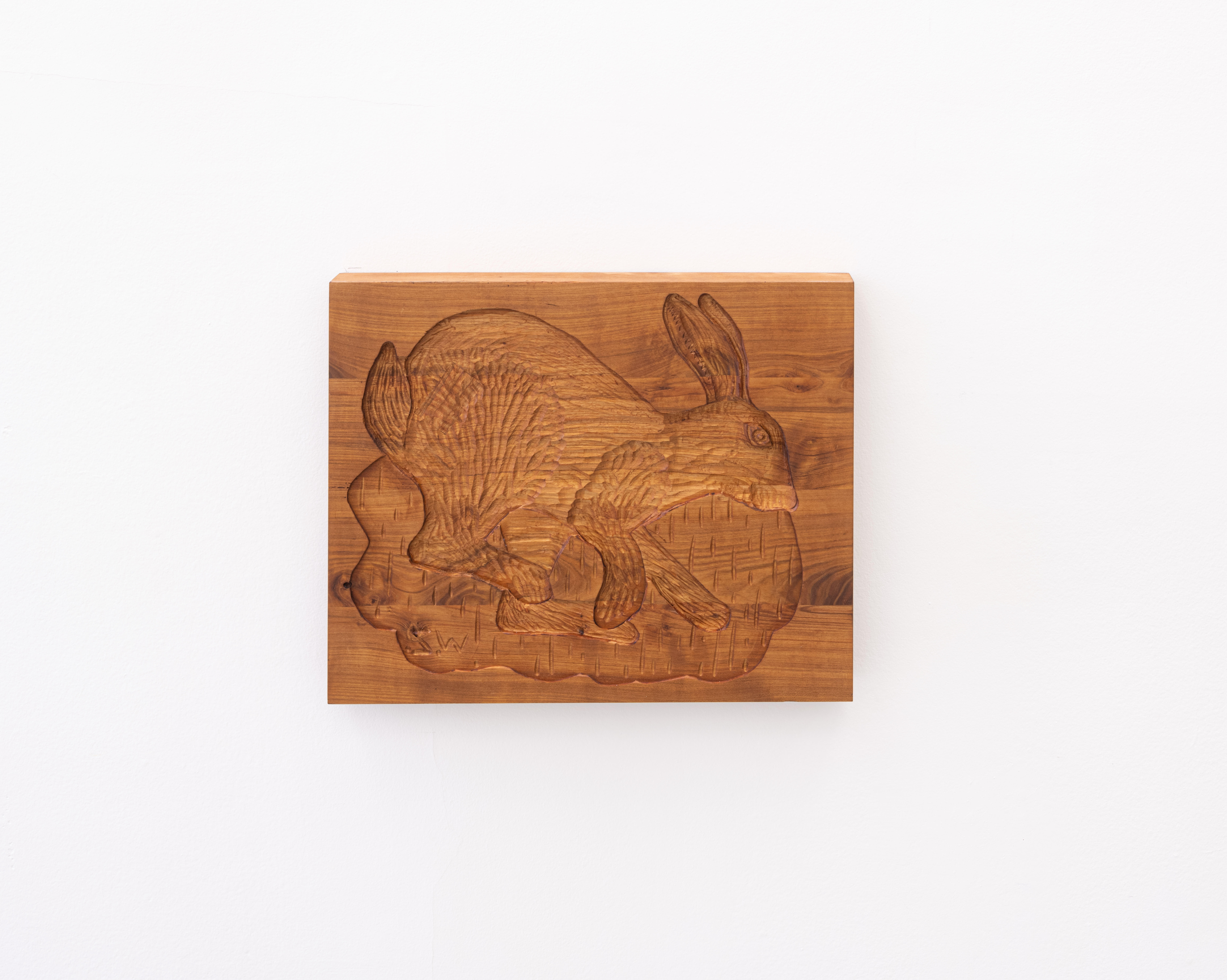 2023, pear wood


For several years now, Ignace Cami has been training himself in the traditional cutting of outsized koekplanken [biscuit moulds] using text or image. Cami collaborates with local bakers who use their own, often secret, speculoos (a typical Belgian spiced biscuit) recipe to bake biscuits. The biscuit is then displayed and offered in a mobile biscuit cart. Biscuit moulds can be traced back to a pre-Christian ritual of offerings: gradually, the offering was replaced by its image baked in biscuit.

Haas is an ode to Ward Zwart.

Installation pictures: copyright M HKA/clinckx

2022, wood, salt dough

'Wij-gift' is a mobile wishing wall made for an in situ project by
Wo Meine Sonne Scheint | Tuinzigt
. The shrine holds 14 salt dough wishes for and by the neighborhood and its people. The project was conceived and made in relation to the neighborhood in one week's time. It is based on a collection of Ex Voto's from the local museum.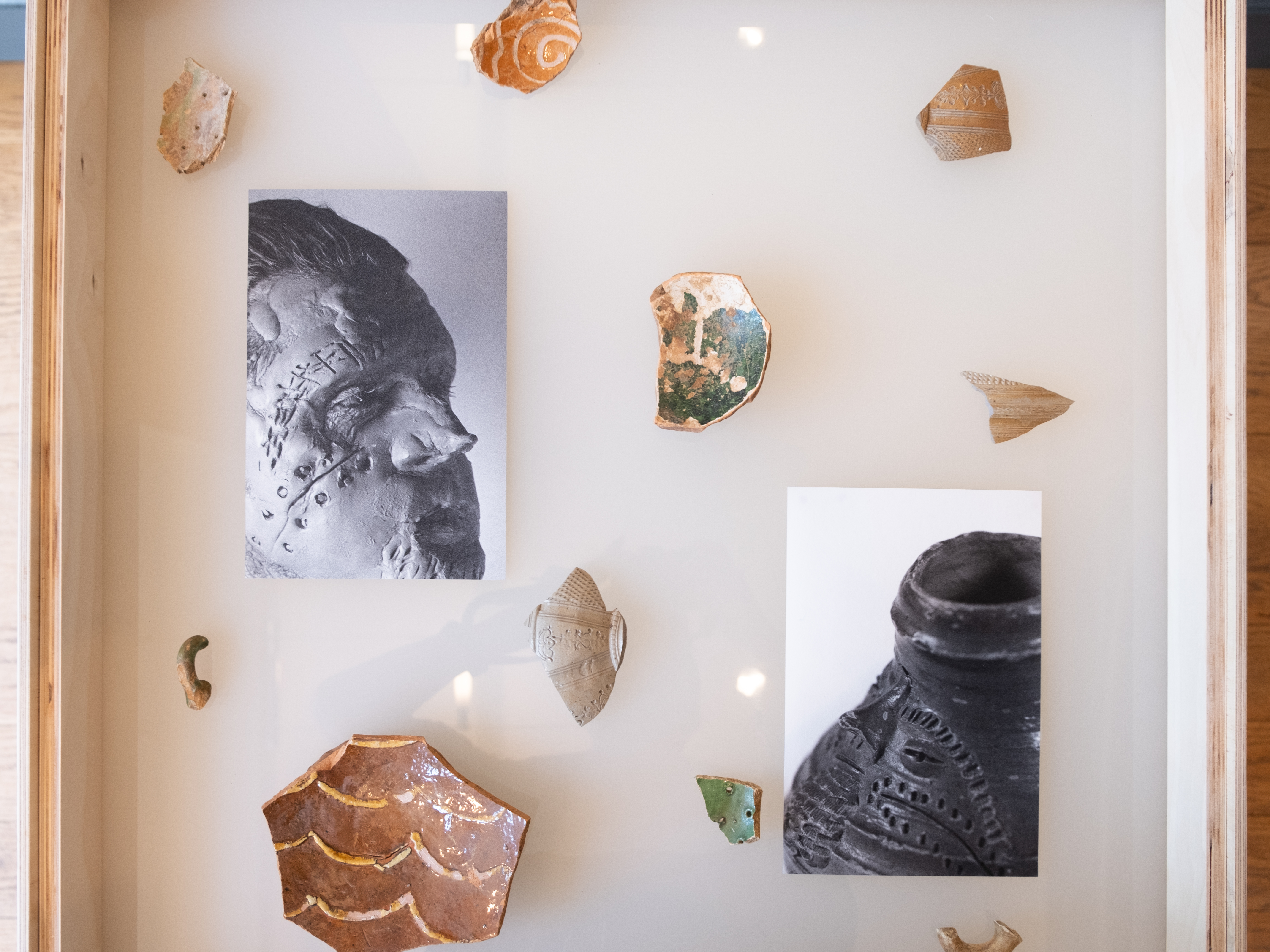 2022, archeological pieces, audio, photographs, speculative history

The presentation of 'Het Opgevist Verleden' (the fished-up past) consists mainly of an archeological jug, a fifteenth century beardman jug, that tells its traumatic story from raw clay to stoneware to ending up in front of an audience. Alongside the main piece are vitrines filled with shards that were found at the same site as the jug. They are combined with photos of hands covered in clay, a portret of the jug and a portret of the artist as the jug.
This project was made with the help of
Kempens Karakter
.
2022, cherry wood, dough, metal cart

The design for the cookie board 'ECHO III: The 'Some Say' Cycle' is a speculative text about the origins of the "first" story, the primordial myth, and how it came about. The rumours suggest three possible narratives to explain that very first one.
The cookie board shows the mirrored text, which will only become readable in the shape of an oversized cookie. The cookie, in turn, begs to be eaten by the visitors. Parts of the content disappear and the meaning is lost until it reappears in a new anew.
The cookie was baked by
Chocolatier Pas
based on a secret family recipe.
2022, ceramics, chains, glass, drinks, reception

I'll explain everything to the geese is a happening based on elements of a Belgian folk tradition. The event questions the beauty and the burden of belonging to a group, a community, a family.

You enter the space, head straight to the open bar. This part of the social event is familiar to you. Then you find a ceramic object chained to your glass. Free festivities in exchange for taking care of a delicate item all evening: do you accept these terms?

As the crowd grows bigger, the recurrence of the objects becomes nearly ritualistic. The people who are carrying the same burden are involuntarily connected. Are you proud you are a part of it? Relieved you are not?

The objects, similar as they may seem, are all handmade and unique. These small differences might spark conversations. How do you interpret the individuality in this shared experience? The awkwardness of the familiar?

Reflect on responsibility. Imagine mysterious origin stories. Enjoy a nice glass of whatever.

Installation pictures: copyright M HKA/clinckx
Performance picture: copyright Krikkepeer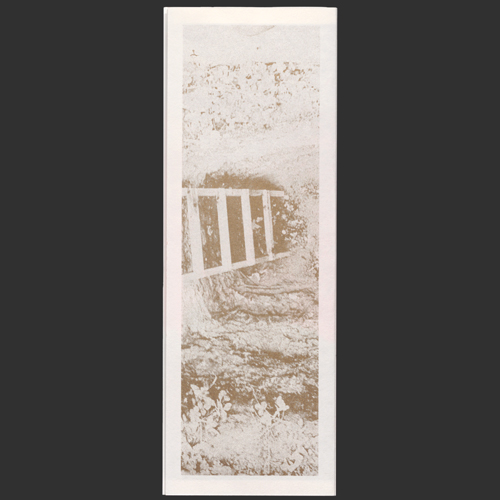 Welcome to the audio file of the singing clay. The main catalyst for the publication "Soils of Thought". <3

Soils of thought is a collaborative publication made together with writer Inge Schilperoord and textile artist Aliki van der Kruijs. Both reacted to the making process of the artwork "A sense of direction" and their takes on it all were collected in the form of this booklet, containing an introduction on what happened, a short story, a collection of process pictures and a log written during the act of digging.

The publication was designed by Studio Exercises and printed at the Jan Van Eyck Academy Printing & Publishing Lab.

Soils of Thought is available for purchase from the artist (email) and the Jan Van Eyck Academy shop.




2021, Single-channel video, 14'37"
Glossolalia
is a collaborative video project with
Alaa Abu Asad.
It reveals poetic diversity and is an ode to the pleasure of looking at images and listening to sounds.
In Glossolalia, tonal language or speaking in tongues transforms difficult communication and misunderstandings into playful and refined poetry. References to the online gatherings of Under the Tower / Onder de Kerktoren / تحت البرج exhibition-project are present but never overbearing. Glossolalia is a conversation between the artists, and through audiovisual elements it offers a window on the world, an invite to a contemplative journey.
Glossolalia is a form of uncommon speech behaviour and is also known as 'tonal language' or 'speaking in tongues'. A visual language can be clear to one person and totally ambiguous to another, yet arousing their curiosity. Translation creates a Tower of Babel. Language, whether visual or textual, evokes associations that are rooted in history, context and culture.

This video is produced as part of the exhibition project Under the Tower / Onder de Kerktoren / تحتالبرج and inspired by its online conversations, with the participation of Griet Dobbels, Els Vermeersch, Essa Grayeb, Jack Persekian, Els Vanden Meersch, Manal Mahamid, Stef Van Bellingen, Milena Desse, Mirna Bamieh, Shada Safadi, Shuruq Harb, Renad Shqeirat, Jessy Rahman, Rosh Abdelfatah, Blanka De Bruyne, Sam Eggermont en Stefaan Van Biesen.

Funded by Flanders, State of the Art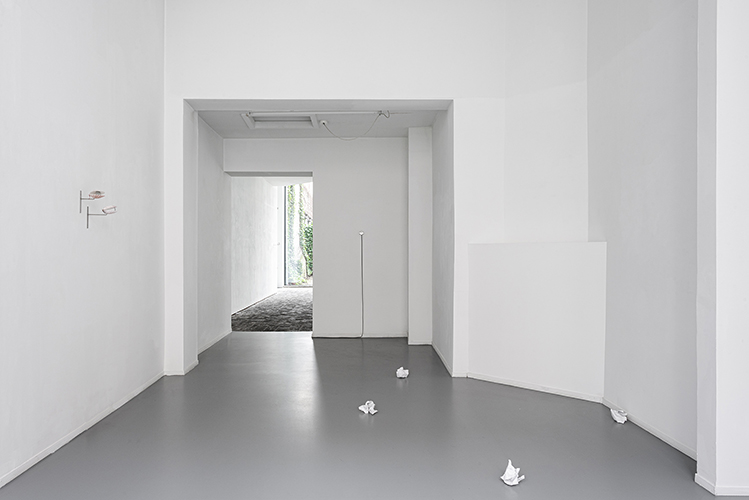 2021, descriptions on balls of paper
This in-situ work is based on the idea that a specific, prominent place in the exhibition space houses the stories of all the works of art that have been shown here over the past ten years. It is their story – however personally interpreted, inadequately remembered, passed on in fragmentary fashion – that survives their presentation. With "Hotspot" Cami feeds into those multi-layered narratives. He made brief descriptions of thirteen works that were previously shown here. These new linguistic representations stimulate the imagination, thus demonstrating at the same time the power, but also the impotence of language in all its ambiguity. That inadequacy is also reflected in their shape. Cami crumpled the descriptions, which he had gallery owner Veerle Wenes write in her elegant handwriting in fountain pen. As a reference to failed attempts, they nevertheless remain, after being read by visitors, on the hotspot of the gallery, elevated to final, fragile works of art.
(text by
Eline Verstegen
)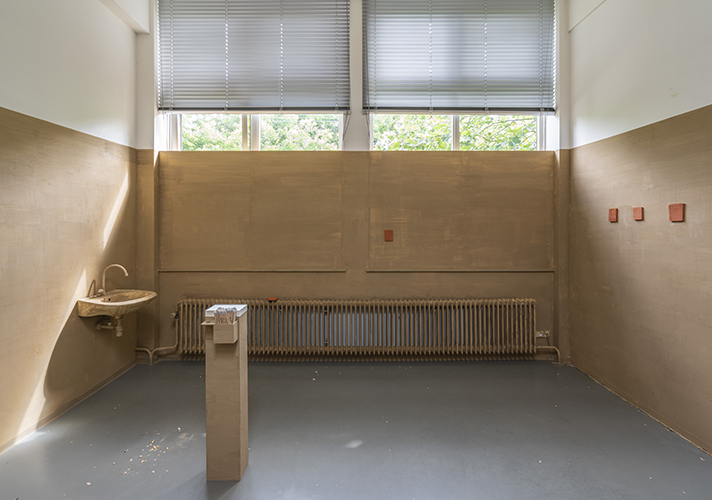 2021, clay, paper, pencils, sharpener, wood, audio
"A Sense of Direction" is a project with many faces. In one the audience is invited to make rubbings (frottage) of small, clay plates spread across the space with provided paper and pencils. The plates contain subtle pictographic representations of chapters in a story, describing the tale of singing clay that was dug up and collected by the artist, after hearing about it in a rumour. The walls, painted with the clay, mark the depth of the actual pit that was dug in order to find it. The sounds that can be heard throughout the space are recordings of the clay singing.

The project also exists as a storytelling and audio performance and also as an artist book.
2021, cherry wood, dough, metal cart
This oversized cookie project is one of the results of my research in the craft of cookie board cutting and the possibilities of storytelling with dough. This text based cookie (and board) functions as a concrete poetry piece, changing meaning as it is being eaten.

For this cookie a local bakery is selected and asked to use their family's secret 'speculaas' recipe. The cookie is presented and distributed in a homemade, mobile cookie cart.

2021, walnut wood
Never Alone is a set of small cookie figures based on rats. They hint at the performative noise project
Boris & Kitchenknife
.
Installation pictures: copyright M HKA/clinckx
2020, walnut & larch wood
The first two cookie boards I cut as tests for the first big board. These were the first baby steps towards
'Koek voor Ninove'
.
Installation pictures: copyright M HKA/clinckx
2020, cherry wood
The third cookie board I cut as a test for the first big board. This was the last preparation for
'Koek voor Ninove'
.
Installation pictures: copyright M HKA/clinckx
2020, walnut wood, dough, metal cart
The giant cookie project "Koek voor Ninove", based on the tradition of cookie board cutting, was designed for Ninove's "KRASJ5" biennial. To convey a local legend of the town Ninove the design and the recipe were made to symbolize the main two characters. The oversized cookie, in the shape of a donkey with a carrot in its belly, is cut in small pieces presented to the public on a cart. Each visitor can take and eat a part of the bigger picture, transforming the image and absorbing the story.
For this project I collaborated with
Bakkerij Koen De Boeck
in Ninove (BE).
2020, oral publication, storytelling contract with librarians, line of salt
On the 20th of January I donated "Echo II: La Cloche" to the library of Sint Lucas Hogeschool Antwerpen.

A daily line of salt marks the entrance of the library. This line is linked to "Echo II: La Cloche", an oral publication written especially for the library, offering an alternative history of the place. The story is told once to the librarians and is retold by them by heart to anybody who asks about the line of salt or the story itself. The librarians signed a contract stating that they will retell the story as accurately as possible and that they will pass it on to new librarians, keeping the story alive.

The library can be found at the Van Schoonbekestraat n° 143 in Antwerp and is open from Monday to Friday from 8.30 to 16.30. They are closed on holidays and during school vacations.

Sadly the project has ended due to unforeseen and practical changes, both local and global.
2019, storytelling performance
An alternative history of giants living in Belgium.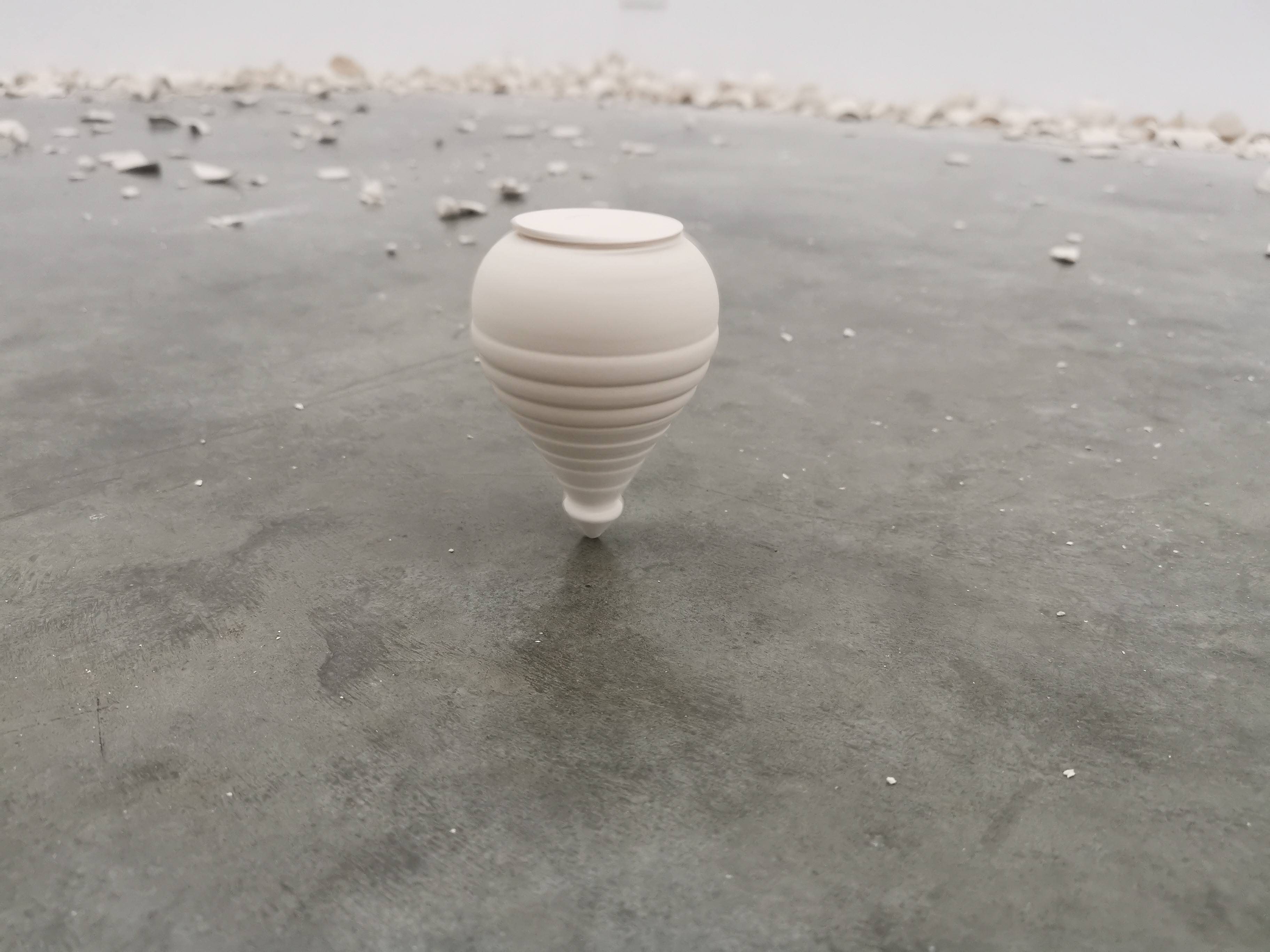 2019, ceramic spinning tops, rope, small publication
Two hundred fragile ceramic spinning tops lay and wait for visitors to pick them up and attempt to spin them. Who is willing give it a try?

This project is the combination of a performative object (ceramic spinning tops) and a little publication, containing a guide on how to play with the toy. The step-by-step guide is mixed with an auto-fictive short story which can live on outside of the exhibition context.
2019, storytelling, sandwich board, lasercut, chains
"The Fountain" is a storytelling performance. In a completely circular system the artist's old artworks are reactivated and transformed in the form of urban legends, giving insight in his world and his mind. These stories are told to whom ever wants to hear them in exchange for an other story.
2019, Prototype – wooden sandal, leather strap, text message in rubber sole
This product was made possible by the "Intimate Terrains Summer School" of
Disarming Design From Palestine
, in a collaboration with
the Palestinian Museum
.
A Handmade wooden sandal leaving a message with every step.
Across the globe, people long to return to a home that was once theirs. During the Nakba, a lot of Palestinians were forced to flee, becoming refugees in their own country or in diaspora. They were denied to come back, but still hold on to their right of return. At the same time Palestinians are still suffering restrictions in movement in their own land.
Thahabna le na`oud
is a contemporary remake of the traditional wooden "Qubqab" slipper. Anonymous in its design, our slippers carry in their soles a hidden message that is an insistence on the Palestinian right. While we move across the landscape, the slippers imprint in the sand the bold but fragile promise: "We left" … "To come back" … "We left" … "To come back" … "We left" … "To come back" …
Designers: Aya Kirresh, Ignace Cami, Jürgen Buchinger, Lama Aloul, Samar Kirresh
Artisans: Abu Ahmeed (Rahallah Shoes, Shoemaker), Abu Bashar (Carpenter), Samar Abdallah (Samar Style Tailor), Salam Alassi (Assi Advertising Makers, CNC and Lasercutting)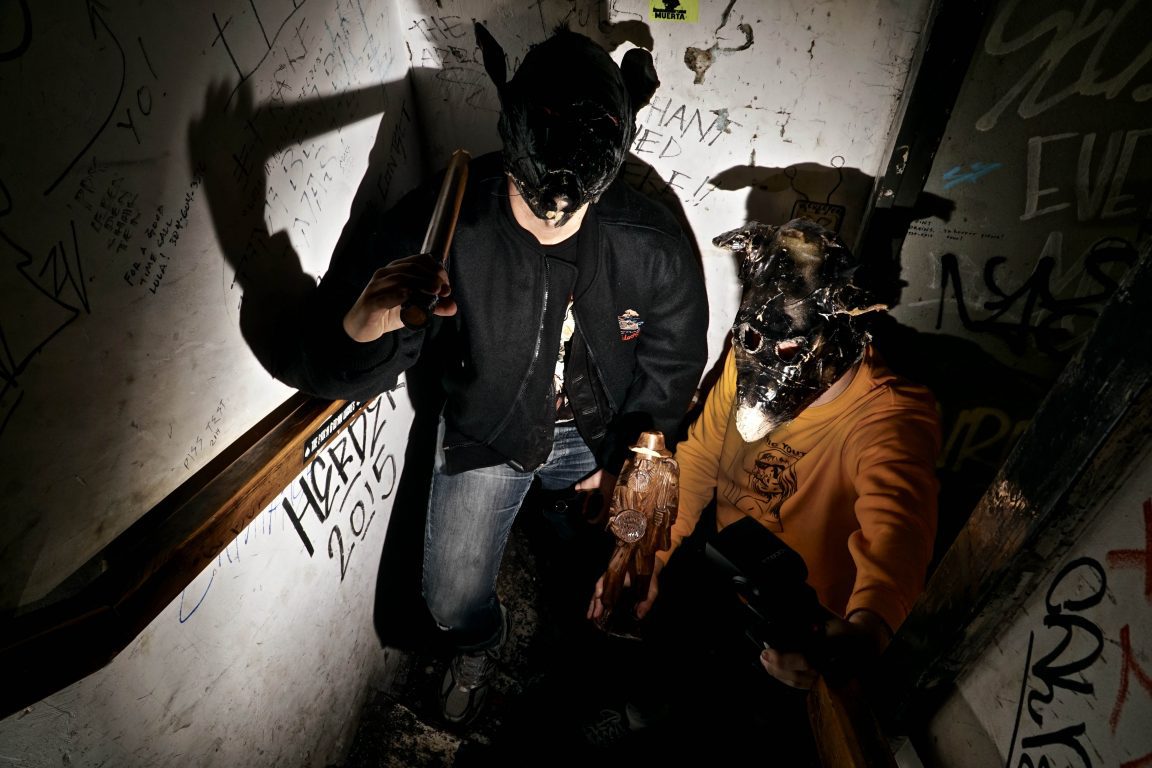 2018, masks, costumes, tape, cardboard, trash
Collaboration with
Ward Zwart
.
Near the end of 2017
Boris & Kitchenknife
were born out of a long lasting collaboration(Haas&Gaai) with
Ward Zwart
. For close to two years we performed at art spaces, festivals and music venues.
After emptying an entire tent during our performance at PUKKELPOP we decided to record a tape. NOGHARDER, a tape with Dutch spoken word and collage style music made with wheels, cardboard boxes, chain, lighters, bells, glass and so on. Carried by a steady stream of static noise and performed by your beloved lifesized rats.
2017, glazed ceramics, stool, sugar cubes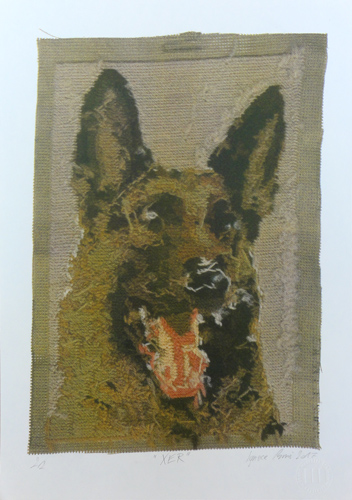 2017, Risograph print on paper
A series of risograph prints of backsides of needlepoint shepherd dogs. This series is an ode to the beauty, chaos and hard work that goes unseen.

AKIAL edition of 10 copies

LEDIF edition of 10 copies

XAM edition of 12 copies

XER edition of 2 copies
2017, Risograph print on paper
The odd one out in a series of risograph prints of backsides of needlepoint shepherd dogs. This series is an ode to the beauty, chaos and hard work that goes unseen. This edition was made for a map sold by
Yellow Art vzw
.
Down boy edition of 35 copies
2017, wood, paper, risograph prints

An interpretation of a classical Belgian ripping calendar. On every page you find a picture of a dog barking a syllable of the Belgian national anthem.

't Herderken edition of 5 copies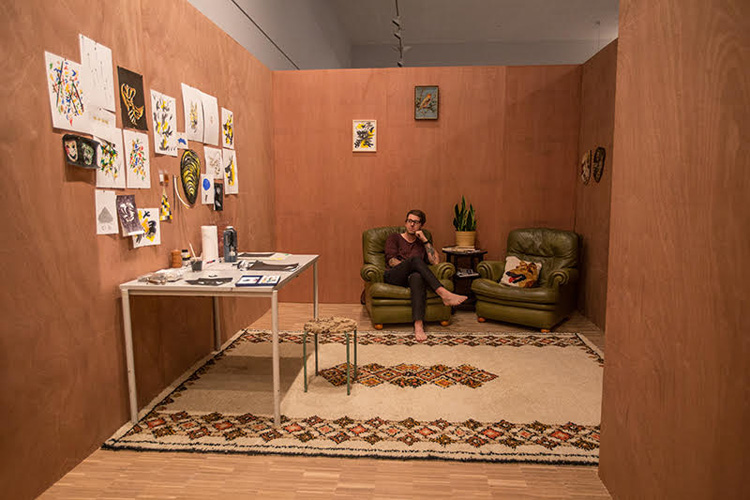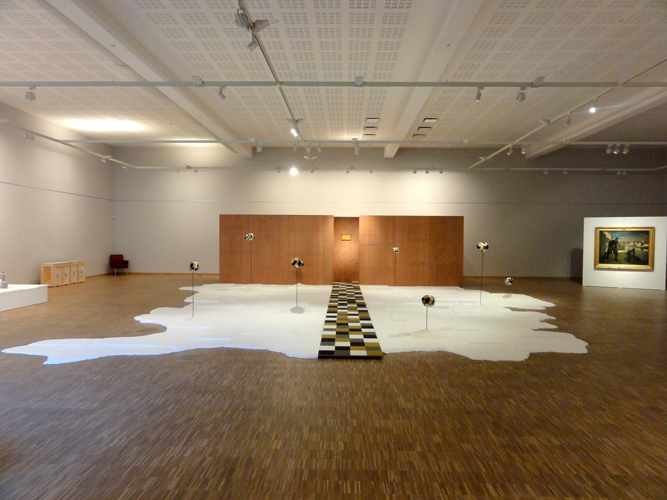 2016, mixed media installation

The "Pollination" project was an in situ installation in which visitors were asked to enter the work barefoot across a path of sandpaper towards an unknown location. Here they entered a studiola were the artist was present.
As a welcoming gift he offered each visitor a bag of honey from his wall. Visitors had the possibility of watching the artist produce bags of honey, draw or engage in conversation. The entire construction was based on the artist's hope for cross-pollination and growth.

2014, lightbox, print, salt 120x70x30

2014, textile, woodcut 2x 60x80

2014, black jeans vest, white chalk 40x60x10

In wearing the vest at social events the chalk rubs off on others, like pollen rubbing off on bees. This act of rubbing off on people is not a performance that is played out within certain boundaries, but becomes a part of everyday life as it is not only worn at artshows but at all social happenings and events.

2013, resin, sansevieria, rope 110x80x10

The first sculpture in a series based on constructed myth. The sculpture imprisons a symbol that could be either a cross or a sword made out of the leaves of a sansevieria.

2013, 6 ink and watercolour drawings 70x100

The "Gratie" series consists of six drawings of objects that, when put together, get a strong symbolic feel. They become multi-layered as methaphors and at the same time they start functioning as simple visual symbols.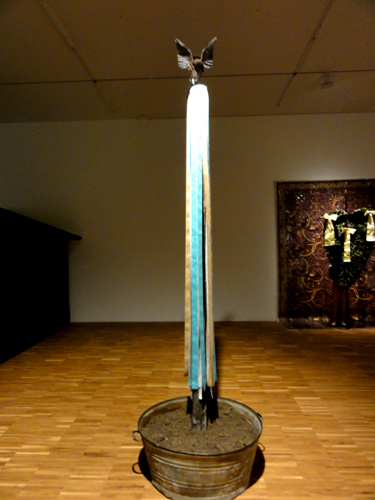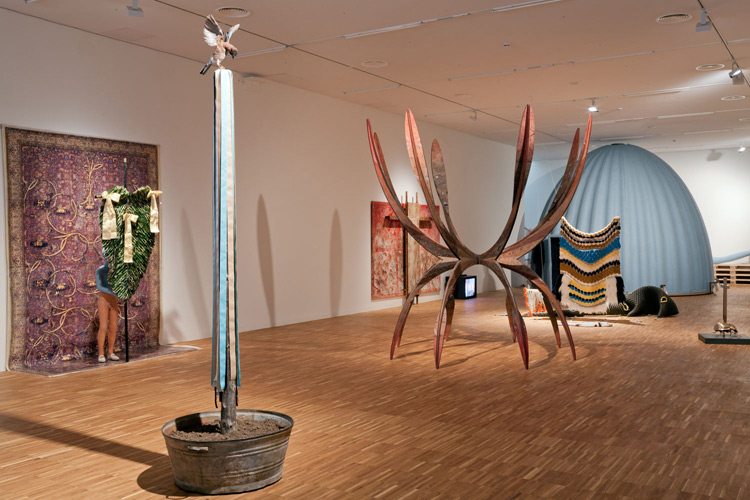 2012, taxidermy, zinc, wood, dirt, satin strips 300x120x120
2012, sandbag, mixed media, song "Heimwee doet ons hart verlangen" 40x20x20
This sculpture/installation is best described as a singing sandbag. When you enter the room where the bag is positioned you will notice the voice of an old lady singing. When you follow the sound you will find that this old dutch song, sang by an elderly woman, is coming out of the bag of sand. She is singing about the Flemish landscape of her youth.
2012, resin, sansevieria, rug, spotlight 120x85x85
A geometric sculpture made out of solid polyester which contains a big sansevieria in a terracotta pot. The plant's silhouette is visible through the dense, shiny, mineral-like object. The sculpture rests on a big Persian rug.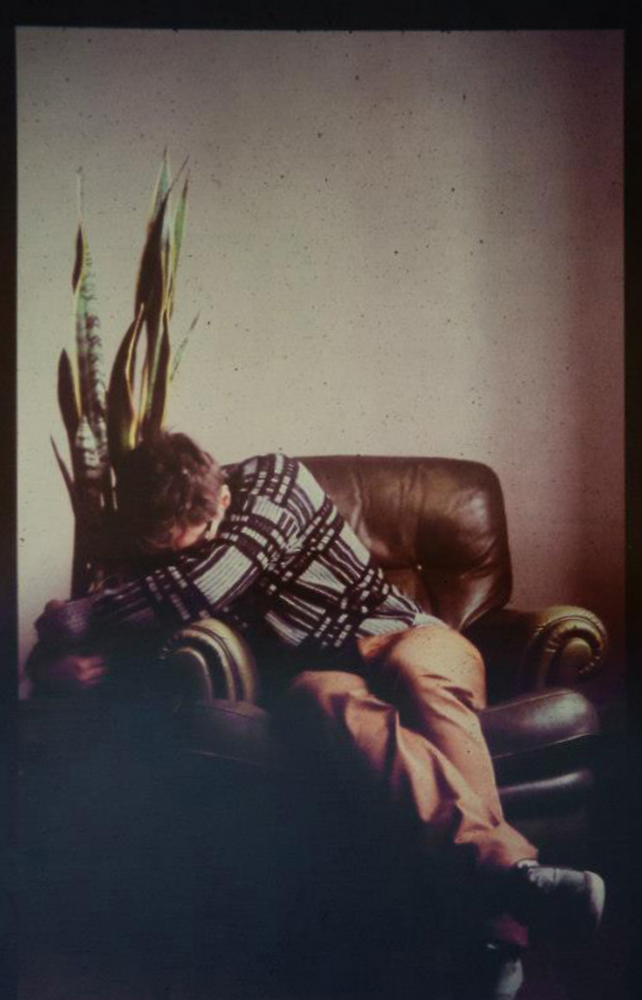 2012, dia slide, silverscreen, artist, sansevieria
A dia-projection that shows the artist and a sansevieria in an entangled state. Since this slide is the only residue of whatever was going on it leaves us guessing.

2012, video, bodypaint, arm, voice-over