2021, Single-channel video, 14'37"
Glossolalia
is a collaborative video project with
Alaa Abu Asad.
It reveals poetic diversity and is an ode to the pleasure of looking at images and listening to sounds.
In Glossolalia, tonal language or speaking in tongues transforms difficult communication and misunderstandings into playful and refined poetry. References to the online gatherings of Under the Tower / Onder de Kerktoren / تحت البرج exhibition-project are present but never overbearing. Glossolalia is a conversation between the artists, and through audiovisual elements it offers a window on the world, an invite to a contemplative journey.
Glossolalia is a form of uncommon speech behaviour and is also known as 'tonal language' or 'speaking in tongues'. A visual language can be clear to one person and totally ambiguous to another, yet arousing their curiosity. Translation creates a Tower of Babel. Language, whether visual or textual, evokes associations that are rooted in history, context and culture.

This video is produced as part of the exhibition project Under the Tower / Onder de Kerktoren / تحتالبرج and inspired by its online conversations, with the participation of Griet Dobbels, Els Vermeersch, Essa Grayeb, Jack Persekian, Els Vanden Meersch, Manal Mahamid, Stef Van Bellingen, Milena Desse, Mirna Bamieh, Shada Safadi, Shuruq Harb, Renad Shqeirat, Jessy Rahman, Rosh Abdelfatah, Blanka De Bruyne, Sam Eggermont en Stefaan Van Biesen.

Funded by Flanders, State of the Art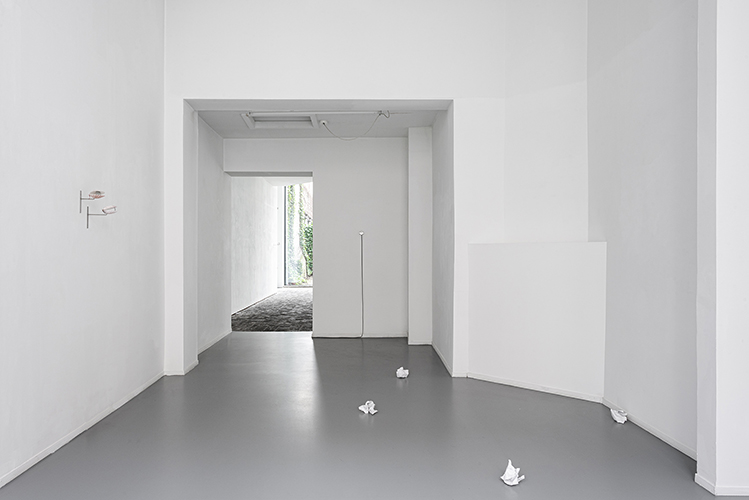 2021, descriptions on balls of paper
This in-situ work is based on the idea that a specific, prominent place in the exhibition space houses the stories of all the works of art that have been shown here over the past ten years. It is their story – however personally interpreted, inadequately remembered, passed on in fragmentary fashion – that survives their presentation. With "Hotspot" Cami feeds into those multi-layered narratives. He made brief descriptions of thirteen works that were previously shown here. These new linguistic representations stimulate the imagination, thus demonstrating at the same time the power, but also the impotence of language in all its ambiguity. That inadequacy is also reflected in their shape. Cami crumpled the descriptions, which he had gallery owner Veerle Wenes write in her elegant handwriting in fountain pen. As a reference to failed attempts, they nevertheless remain, after being read by visitors, on the hotspot of the gallery, elevated to final, fragile works of art.
(text by
Eline Verstegen
)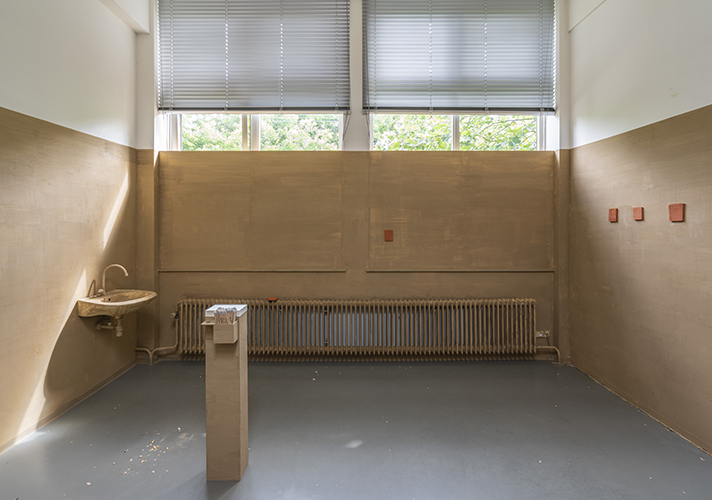 2021, clay, paper, pencils, sharpener, wood, audio
In "A Sense of Direction" the audience is invited to make rubbings (frottage) of small, clay plates spread across the space with the provided paper and pencils. The plates contain subtle pictographic representations of the chapters of a text, which describes a story of singing clay that was dug up and collected by the artist, after getting wind of a rumour. The walls, painted with clay, mark the depth of the actual pit that was dug in order to find it. The sounds that can be heard throughout the space are recordings of the clay singing.
2021, cherry wood, dough, metal cart
This oversized cookie project is one of the results of my research in the craft of cookie board cutting and the possibilities of storytelling with dough. This text based cookie (and board) functions as a concrete poetry piece, changing meaning as it is being eaten.

For this cookie a local bakery is selected and asked to use their family's secret 'speculaas' recipe. The cookie is presented and distributed in a homemade, mobile cookie cart.

2021, four colour s
Two oversized horned masks stare blankly into space. Their face covered in puffy coloured dots, abstract up close but slightly readible as take a few steps back. Post-industrial landscapes once made into embroideries are blown up to a monumental size.