2019, storytelling performance
An alternative history of giants living in Belgium.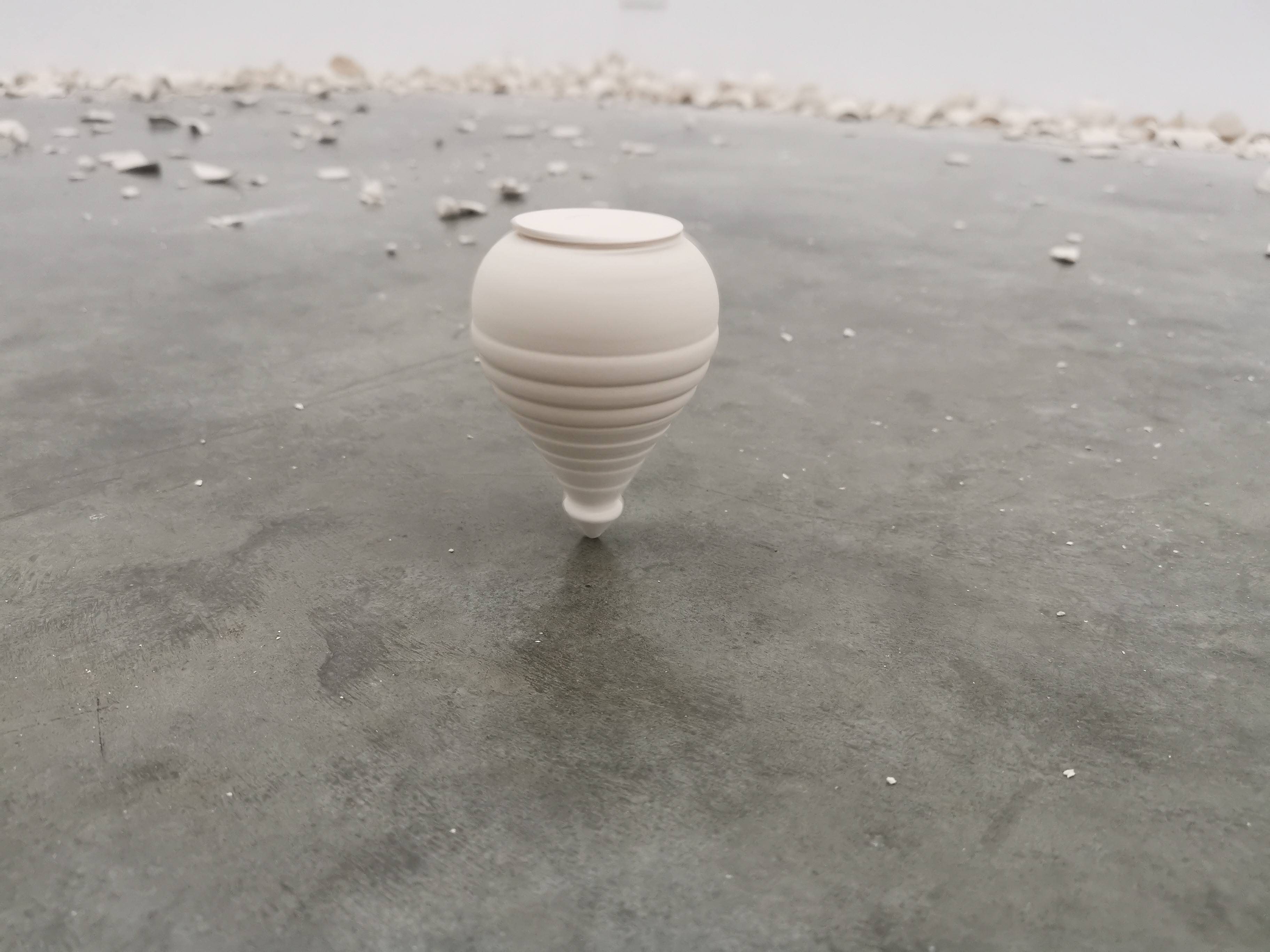 2019, ceramic spinning tops, rope, small publication
Two hundred fragile ceramic spinning tops lay and wait for visitors to pick them up and attempt to spin them. Who is willing give it a try?

This project is the combination of a performative object (ceramic spinning tops) and a little publication, containing a guide on how to play with the toy. The step-by-step guide is mixed with an auto-fictive short story which can live on outside of the exhibition context.
2019, storytelling, sandwich board, lasercut, chains
"The Fountain" is a storytelling performance. In a completely circular system the artist's old artworks are reactivated and transformed in the form of urban legends, giving insight in his world and his mind. These stories are told to whom ever wants to hear them in exchange for an other story.
2019, Prototype – wooden sandal, leather strap, text message in rubber sole
This product was made possible by the "Intimate Terrains Summer School" of
Disarming Design From Palestine
, in a collaboration with
the Palestinian Museum
.
A Handmade wooden sandal leaving a message with every step.
Across the globe, people long to return to a home that was once theirs. During the Nakba, a lot of Palestinians were forced to flee, becoming refugees in their own country or in diaspora. They were denied to come back, but still hold on to their right of return. At the same time Palestinians are still suffering restrictions in movement in their own land.
Thahabna le na`oud
is a contemporary remake of the traditional wooden "Qubqab" slipper. Anonymous in its design, our slippers carry in their soles a hidden message that is an insistence on the Palestinian right. While we move across the landscape, the slippers imprint in the sand the bold but fragile promise: "We left" … "To come back" … "We left" … "To come back" … "We left" … "To come back" …
Designers: Aya Kirresh, Ignace Cami, Jürgen Buchinger, Lama Aloul, Samar Kirresh
Artisans: Abu Ahmeed (Rahallah Shoes, Shoemaker), Abu Bashar (Carpenter), Samar Abdallah (Samar Style Tailor), Salam Alassi (Assi Advertising Makers, CNC and Lasercutting)